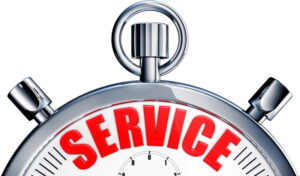 Having a gas furnace in Orange, VA is a great way to ensure that your home stays warm on even the coldest of days. The question is, are you certain that your system will be able to keep up its operation?
Getting service from a professional is the only way to truly guarantee that you get great service out of your gas furnace for the longest amount of time. But is that really true?
We maintain that it is. This is because we've seen our fair share of dangerous and botched DIY attempts. Professional service guarantees you get the results that you need. Here is the difference that expert care can provide for your gas furnace and you!
What to Expect From Professional  Service
There is a reason that professionals and amateurs aren't in the same category! Professionals work hard to become trained and certified at what they do. And while we are sure that there are plenty of amateurs out there who work hard to become skilled at working on a heater, it just isn't the same protection or quality that you need. Here's what you can expect when you schedule service for your gas furnace with a professional technician.
Repairs that serve for multiple years: Amateur repairs aren't guaranteed. These individuals don't have expert training which means they can't promise that what they do is going to be an effective solution. In contrast, expert services are backed by training, certification, and experience so you can rest assured that professional repairs will work and will do so for a long time.
Better energy efficiency: When you work with a professional, the service that you get won't just solve the immediate issue. It will also address any inefficiencies in the system as well. This means that you'll enjoy better energy efficiency from your system when you go with a pro, no matter what.
No lost time to internet tutorials: Look. We know there is a lot of information available to teach people about different tasks online. And while this is a great way to learn new recipes or get some basic design tips, it isn't a good idea to teach anyone about handling gas furnaces services. It takes a lot of extra time and there is no guarantee it is teaching you the right way to handle your system. Don't waste time with an online tutorial—come to the professionals for effective and prompt repairs.
Safety for your home and health: Last but certainly not least, professional repairs ensure that your system will continue to operate safely and effectively. Amateur work can put your home and health at risk, so it is best to go with a professional to keep everyone safe and warm.
Now that you know the details, it is probably a lot easier to see why professional service is so important. When you need expert service for your gas furnace, you can always come to our team!
We can't control the weather outside of your home, but we can control the weather inside your home. Contact Mack Morris Heating & Air Conditioning for expert furnace service you can rely on.