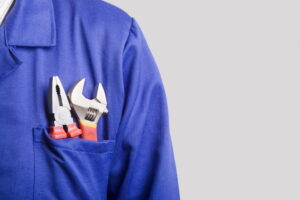 The short answer to the question is no. Your heat pump absolutely requires repairs.
But let us give you some additional information.
Heat pumps are made to be effective and efficient. While this type of system offers great advances in technology, it doesn't mean that a heat pump is going to be without the need for support. Heat pumps can provide homeowners with years of incredible comfort as long as they get the maintenance and repairs they need. And our team can provide.
Repairing a heat pump in Charlottesville, VA is a job best left to the experts. If you notice trouble with your system, your best course of action is to contact us. Here's how to figure out if it is time to reach out for heat pump repairs. Remember that skipping them can cost you the entirety of your system!
5 Signs You Need Heat Pump Repairs
Not sure whether your heat pump system needs professional repairs or not? Here are some of the signs it is time to call in a professional technician to get your heat pump back in working order.
Weakened airflow: The flow of the air that your heat pump produces should be steady and strong. If you notice that, instead, you get weak, sputtering gasps of air from your system, it is a sign of trouble. Make sure to check your filter and, if it isn't the source of the issue, call a pro to check things out.
Short cycling: Your heat pump turns on for only a few brief minutes before shutting down again. It isn't making a dent in your comfort but it is driving up your energy bills.
Concerning noises: Noticing some new sounds coming from your system? If you hear rattling, screeching, hissing, dripping, or buzzing from your heat pump, it is time to call in an expert.
Leaking fluid: It might be a clogged condensate line or it may be a leaking refrigerant line. Leaking fluid from your heat pump is never a good thing so make sure to have it checked out ASAP.
Poor comfort: Overall, any issues with your heat pump's ability to adjust the temperature in your home should be treated as concerning. Don't ignore it or try to just deal with it. Reach out for repairs to get the issue fixed.
Can It Wait?
Here's the fun thing about heat pumps: they both heat and cool your home. If things have started to warm up but you are noticing your heat pump isn't able to heat the home as well, you might be tempted to put off the repair. Don't wait! Whatever is hindering your system now can (and probably will) hinder its cooling function later on.
When you need help with a heat pump that is having trouble, prompt professional repairs are always the best way to go!
Contact the team at Mack Morris Heating & Air Conditioning to schedule an appointment. We can't control the weather outside of your home, but we can control the weather inside your home.