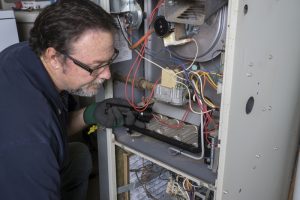 The weather is starting to cool off at long last. We are reveling in the days when simply cracking a couple of windows can keep the home pleasantly cool and comfortable. However, temperatures are going to continue dropping over the next few weeks and it is likely that you've noticed our evenings are already pretty chilly. That's right: it is just about time to kick your heater into action.
Before you do that, we want to make sure that your heating system is ready to do its job right. Anytime you are about to turn on your heating system for the first time that year, it is vital that you make sure you have a professional look it over beforehand.
Why Bother With Maintenance?
There are times that people will wonder whether or not maintenance is really going to help with the operation of their Troy, VA, HVAC system. We can assure you that a yearly tune-up really will help your heating system. Even better, it will end up benefiting your comfort and peace of mind too. Here's how:
Maintenance can improve your system's energy efficiency. Without a yearly tune-up, your heating system is going to lose a certain amount of energy efficiency each year. However, if you do schedule maintenance, it will help your system to keep its energy efficiency or it may even improve it.
Maintenance can lower your heating bills. With the help of a properly trained technician, a yearly maintenance service can help to ensure that your heater is able to do its job without creating a spike in your energy bills. This means you won't have to choose between comfort and keeping your monthly costs manageable.
Annual maintenance is going to reduce your repair needs. Maintenance is also going to reduce the need for repairs. This is because when a trained professional performs your tune-up, they are addressing a variety of small issues so they are prevented from escalating into repair needs. What's more, this also means maintenance can reduce the cost and severity of repair needs when they do pop up.
A tune-up can improve your comfort. When your heater doesn't have to struggle to operate despite things like dirty build-up or a faulty fan, it will be able to heat your home much more effectively, meaning you stay more comfortable.
Too often people underestimate the importance of maintenance services for their heating systems. We don't want that to happen to you! Instead, we want you to enjoy the benefit of being able to schedule maintenance services easily. All you need to do is reach out to a professional technician like the ones on our team to get your tune-up done. Only a professional like ours will be able to get the job done right so you can enjoy the warmth you want.
Reach out to the pros at Mack Morris Heating & Air Conditioning to schedule your yearly tune-up. We can't control the weather outside of your home, but we can control the weather inside your home.