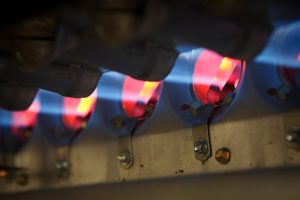 Fall, winter, and a good part of spring around here can be pretty chilly. Thankfully, you have a natural gas furnace that can keep your home comfortable no matter how nasty the temperatures get. These are great systems for providing reliable warmth during colder weather. However, if something is wrong with your furnace, it can hinder your comfort and can threaten your safety too.
When you notice something is up with your furnace, it is a good idea to schedule furnace repair in Crozet, VA soon. This is especially important if you have a cracked heat exchanger.
What Is the Heat Exchanger?
For your gas-powered furnace to provide heat to your home, it has to burn gas that creates combustion gases that are sent through its heat exchanger. The furnace's heat exchanger is made of metal and will heat up as those hot combustion gases flow through it. That heat is then transferred from the gases into the air that is blown across the heat exchanger, thereby creating the warm air that is blown into your house.
The Problem With a Cracked Heat Exchanger
There are multiple different repair needs that a furnace may encounter, but a cracked heat exchanger is one of the most dangerous. Let us explain why.
First of all, when your furnace develops a cracked heat exchanger, it means that the combustion gases responsible for creating heat are going to escape before they can do their job. As you can imagine, this will make the heating process much harder if not near impossible (depending on how bad the crack is).
Along with hindering your heating comfort, a cracked heat exchanger is going to threaten your safety and health. Why? Because there are gases leaking out of your heat exchanger and into your house! This can make you seriously ill if it isn't addressed in a timely manner.
Signs You Need Furnace Repairs for a Cracked Heat Exchanger
If you have a cracked heat exchanger in your furnace, the sooner you get it repaired, the better for your comfort and your well-being. Here are some warning signs that indicate it is time to contact us for repair services:
It is taking longer to heat up your home.
Your energy bills are on the rise.
You can smell gas (natural gas is usually infused with a chemical to create a noticeable scent).
You or someone else in your home is struggling with symptoms of carbon monoxide poisoning like headaches, nausea, or dizziness.
Your carbon monoxide detectors have gone off recently.
When something goes wrong with your furnace, whether it is a cracked heat exchanger or a loose fan blade, you should reach out to us for repairs as soon as you can. No one should have to struggle through the cooler times of the year without any source of warmth.
We can't control the weather outside of your home, but we can control the weather inside your home. Contact the pros at Mack Morris Heating & Air Conditioning for your heater repairs.