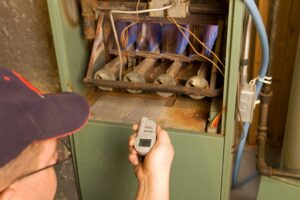 If you've been going back-and-forth between whether or not you need to schedule fall furnace maintenance, consider this your sign. It's time to schedule the appointment and make the investment in your heater.
Now is actually a great time to schedule furnace service in Ruckersville, VA. You can make sure that your furnace is in great working order for the coming winter season. Keep reading to learn more about the benefits of furnace maintenance, and also what tasks our team completes during the appointment.
Prioritize Efficiency
If you want to save money on your energy costs this fall, a tune-up for your heater is just how you do it. It may seem counterintuitive that spending money on maintenance would in turn save you money, but that's exactly how it works. When you invest in heater maintenance, it is an opportunity for our certified professionals to examine your heater closely and identify potential problems before they ever begin.
We look for unusual wear patterns and parts that are beginning to loosen up and fix these things before they ever have a chance to get out of hand. As a result, your heater can work better to keep your home warm without using more energy to do so.
Invest in Safety
One of the top reasons to prioritize maintenance is for your family's safety. Heaters use either gas or electricity to provide heat. While modern heaters are very safe, they are not without some risks. Electrical wires wear down over time and gas lines always run the risk of having leaks.
Since gas is both colorless and odorless, the only way to identify a leak is with a carbon monoxide detector. Maintenance is an opportunity to stay ahead of both of these problems by fixing things before they begin causing hazards to your home and family.
Elevate Comfort
Maintenance will also help your heater warm up your home more effectively. A heater that works efficiently will produce better results. That's not just about saving money on your energy costs, but also about elevating your comfort. You shouldn't have to set the thermostat higher and higher to achieve the same results and stay comfortable on the coldest days of winter. Your heater should be able to keep up with those needs.
Skip Repairs
You're also investing in the peace of mind that you won't need to make repairs to your heater this winter. Even if you skipped out on the tune-up, there's a good chance that your heater would work great all season long without any issues. But eventually the lack of maintenance will catch up to you.
It may be next season or five winters from now, but eventually you'll need to make repairs to your heater. Prioritizing maintenance year after year helps you make those repairs on your terms instead of having surprise breakdowns catch you at a bad time.
We can't control the weather outside of your home, but we can control the weather inside your home. The team at Mack Morris Heating & A/C is here to help with heater tune-ups, so schedule your appointment today.