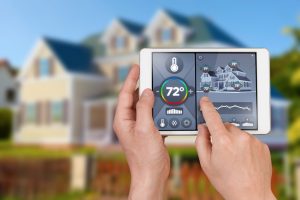 You depend on your heating and cooling units to keep you comfortable throughout the year. That's why you like to make sure your HVAC in Palmyra, VA is taken care of so it does its job as well as possible, for as long as possible.
Did you know that caring for your home comfort systems goes beyond just maintenance and repairs though? It's true! You might not realize it, but your thermostat actually plays a huge role not only in telling your HVAC system to do its job, but it also impacts how well it does the job.
We've had our fair share of people come to us for a heater repair only to discover that the real source of the problem was their thermostat. We always suggest a thermostat upgrade whenever possible.
How Your Thermostat Affects Your Comfort
Obviously your thermostat is responsible for telling your heater what to do (and the same for your AC unit as well). But there are things that can go wrong with your thermostat that can impact your home comfort negatively, and you may not even realize they're happening.
For example, if a thermostat is miscalibrated it may not be able to sense the temperature in your home correctly. During this time of year that can mean it either never signals your heater to turn on, or tells it to run for far too long.
What's more, your thermostat can also become disconnected from your heater so that your requests are never delivered to the system, leaving you cold and likely annoyed.
The key here is that if and when your thermostat starts to show signs of a problem, you should get it fixed, or better yet, upgraded, to get your home comfort back to where it needs to be.
The Benefits of Wi-Fi/Smart Thermostats
So why upgrade your old dial or switch thermostat to a newer model with smart and Wi-Fi capabilities? There is a multitude of reasons to do this!
Control: You can enjoy increased control over your home comfort with the use of a smart thermostat.
App-Access: A Wi-Fi thermostat provides the ability to adjust your home temperature no matter where you are because you can make changes via an app on your phone or tablet.
Learning Capabilities: This thermostat can also learn your daily patterns and adjust temperatures and settings to help optimize your comfort while reducing your energy use.
Energy Use: A Wi-Fi thermostat is great for helping you increase home energy efficiency and even maximize your HVAC system's lifespan
These are just some of the benefits that come with an upgraded Wi-Fi/Smart thermostat. If you are considering an upgrade, we can help! The professional technicians on our team can get your new thermostat properly installed and calibrated so that you can get started on making the most of your home comfort ASAP.
We can't control the weather outside of your home, but we can control the weather inside your home. Contact Mack Morris Heating and Air Conditioning today to learn more.