We here at Mack Morris Heating & Air Conditioning want to let you know that we are still here to keep you comfortable while practicing social distancing not only in our offices but in your homes as well. We are taking steps to help stop the spread of COVID-19 virus. Our office will remain open with normal business hours 7:30 AM-4:30 PM, Monday through Friday.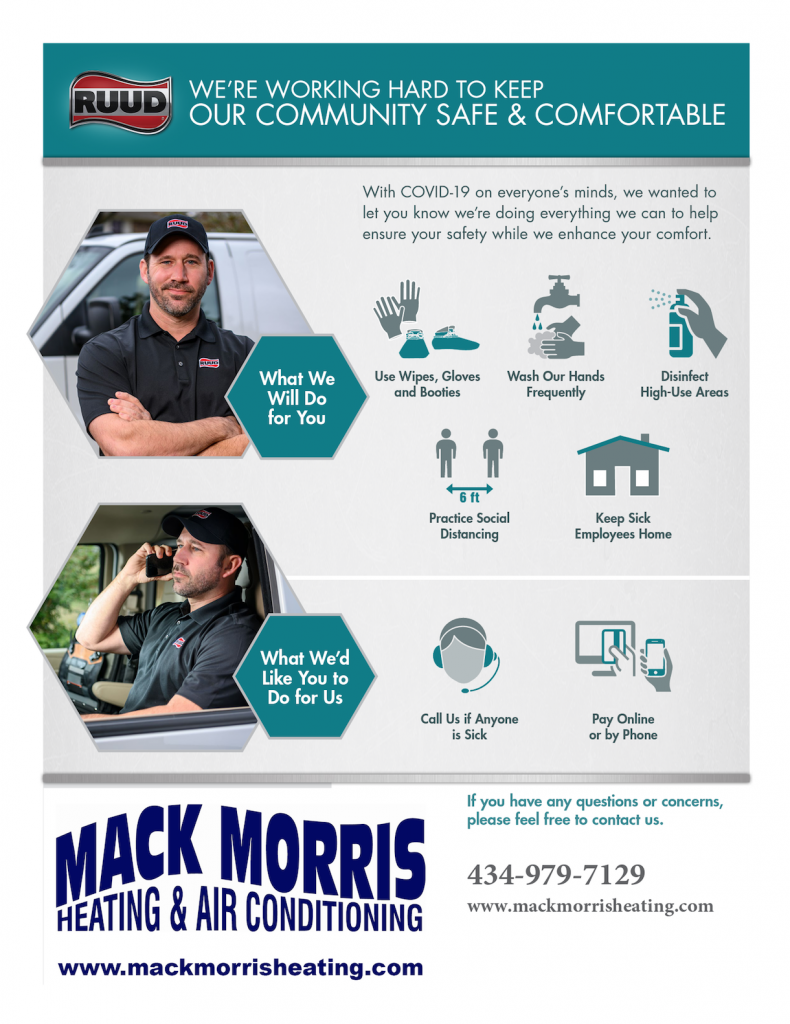 We will have no more than 10 employees in the building and our office will temporarily be closed to customers and vendors. Our technicians have designated drop off and pick up sites for any materials needed for their day and are also asked to please not enter the office. Our technicians are asked to wear gloves while working on indoor equipment as well as fresh booties when entering your home. They are asked to sanitize before entering and after leaving each home. We ask all employees if they are showing symptoms of any illness to please stay home. We are also asking customers to please notify us in the event someone in your home or someone you have been in close contact with may be showing symptoms of the Coronavirus to reschedule your appointment to a later date.
We also ask for your patience as we work through this new process of life together.
Contact Mack Morris Heating & Air Conditioning to learn more.
There is much to consider regarding the COVID-19 virus (Coronavirus) and its possible transmission in your home. While there are various and effective indoor air quality measures available to help protect your safety, including duct sanitization, ultraviolet (UV) germicidal light treatment, and HEPA air filters, they alone cannot protect from all forms of COVID-19 transmission. It is important to follow all official guidelines for preventing the spread of this virus.