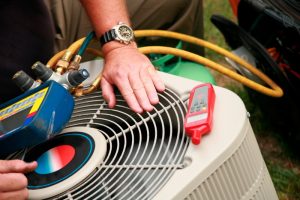 If we were really just using this blog to drum up business for ourselves, then we would actually be telling you to go ahead and service your air conditioner on your own if you are the DIY type. Of course, that is not our core purpose, here. We want to share helpful information that will allow our audience to live in the consistent comfort that they deserve. That is why we are instead going to stress, again, that you really need to work with a professional HVAC company in Charlottesville, VA.
We understand that you may be mechanically inclined. You may have a basement or shed full of quality tools that you are more than happy to break out at a moment's notice. Unless you are a trained HVAC professional, though, those tools should not be applied to your HVAC system! It is always in your best interest to reach instead for the phone, dial our number, and get the quality HVAC services that your system demands.
Education and Experience
The fact that HVAC technicians do not put on shirts and ties and sit in a sleek office building all day does not imply that they are not educated. Modern HVAC systems are more technologically advanced and more complex than ever before, and HVAC professionals have years of ongoing education that allow them to design, install, and service these systems successfully.
Of course, there is a big difference between learning something out of a book or in a classroom and actually applying that knowledge out in the real world. Working with trusted HVAC professionals in your area ensures that even the newest members of the team not only have the educational background that the position requires, but also that they are being guided by the more seasoned members of that team and learning how to put that knowledge into practice the right way.
Coming Prepared
Obviously, you want your HVAC technicians to come prepared in terms of the knowledge and experience that they possess. You also want them to be prepared to do the job—any job—promptly, though. That means having the necessary tools and materials on hand.
Now, even the most well-stocked fleet of work vehicles, such as ours, is not going to have every tool and every part or fitting onboard. However, our team will be able to procure any additional parts and materials—the right parts and materials—promptly if they don't have them already. This is just not possible when you or a local handyperson is trying to get everything necessary via trips back and forth to hardware stores and supply houses.
Protecting Equipment
Look, the fact of the matter is that you are probably going to wind up compromising your air conditioner if you try to service it yourself. This is a complex machine that requires the proper operation of all of its individual components. That is why most warranties will have provisions regarding who can work on the system. Here's a hint—they don't tend to cover damages caused by DIY service attempts!