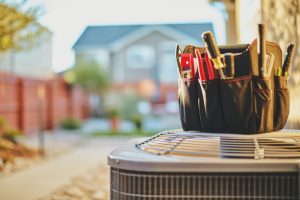 Does it seem kind of late in the season to be talking about air conditioning maintenance? Well, that may be the case. However, when it comes to routine air conditioning maintenance, late is always better than never! So if you skipped over your AC maintenance in Charlottesville, VA this year and figure that you'll just wait for next before scheduling it, this is the post for you! (Here's a free preview—you should still have it done!)
Still not convinced that it is worth the effort to have your system tuned up before the summer season closes once more? Well, consider this—there is very little effort required on your end! Routine maintenance is something that only skilled professionals can handle, and you should never attempt to do the job yourself. Simply pick up the phone, dial our number, and enjoy the big benefits that routine AC maintenance has to offer you. We're waiting for your call!
You Save Yourself Some Money!
Yeah, right—how? By giving it to you? That doesn't even make sense!
Well, it does if you're at all familiar with the notion of return on investment. Because that is precisely what routine air conditioning maintenance is. It's an investment in your AC system.
Over time, your air conditioner is going to suffer a lot of wear and tear. That is just impossible to avoid. It's got a lot of hard work to do, after all.
That wear and tear will snowball and really hurt energy efficiency if it's not addressed with routine maintenance. That increased efficiency that you'll enjoy keeps more money in your pocket, so, yes, AC maintenance saves you money!
While Living More Comfortably!
Do you know what type of air conditioner works best? One that is well-maintained, of course. That same wear and tear mentioned above, the wear and tear that greatly reduces energy efficiency? Well, it can also negatively affect the overall operational quality of your air conditioning system. When that happens, you don't get to live as comfortably as you otherwise would.
Living with high energy costs due to a poorly maintained air conditioner is bad enough. Overpaying for a weaker AC performance really piles on the insult to injury, though. Let us tune up your system, and you'll enjoy a better cooling experience.
For a Longer Time
There is no magic fix that is going to make your air conditioner last forever. All mechanical systems, your air conditioner included, are working within the confines of finite lifespans. But guess what. Well-maintained air conditioning systems will last longer than those that don't get the maintenance that they need.
When we inspect and tune up your system regularly, we'll help to ensure that it functions as effectively as possible for as long as possible. We'll be able to catch problems early as they develop, too, so that they don't sneak up on you and put a premature end to your system's career.
Schedule your air conditioning maintenance with 
Mack Morris Heating & Air Conditioning, and check out our maintenance program. 
We can't control the weather outside of your home, but we can control the weather inside your home.