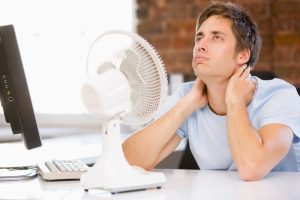 When you have rain one day and high heat and humidity the next, it can make determining which HVAC system to focus your attention on a little complicated. However, we want to make sure to draw your attention to your air conditioner because the temperatures are only going to go up in the coming weeks and you don't want to be stuck without a cooling system.
Maybe you've been using a window unit AC, or you've been relying on a small army of fans to keep you cool. We all know this just won't cut it in the long run, especially when the heat and humidity reach their peak in the summer season. That is why we want to focus on the "A" of HVAC in Charlottesville, VA because it is referring to air conditioning. And when it comes to choosing effective air conditioning systems for your home, we believe you deserve to know what your options are.
Your Choices for Home Air Conditioning
When you are fed up with your window air conditioning unit, you are going to want to know what your options for effective home cooling are so you can make the choice without a sweat. We've provided some details on your main AC unit options here:
Central Air Conditioning System
Central air conditioners use an indoor evaporator unit and outdoor compressor unit to create cool air for your home. By cycling refrigerant, a central AC system rids the air in your home of heat and blows the cooled air through your ductwork and out of the vents placed in different parts of the house. This system is ideal for when you want uniform cooling power throughout the house to ensure that everything is going to be the same temperature.
Heat Pump Mini Splits
Heat pumps can be used with or without ductwork. Using a number of air handlers to distribute cooled air, heat pumps offer you cooling power in the summer that can be customized. You can either have the air handlers synced to operate in tandem, cooling the house evenly, or you can set them up to work as needed so you can cool certain rooms on their own to save energy. As an added bonus, heat pumps can also provide year-round comfort because, due to their ability to reverse the flow of the refrigerant in their system, they can heat your home too.
How To Choose What Is Right For You
So how do you go about choosing the air conditioning system that is right for you? You don't want to opt for one system and discover that the other one may have been a better fit. Installation isn't a cheap service! Make sure you take these questions into consideration when you are making your decision:
Ductwork: Do you already have ductwork in your home? If not, are you willing to have it installed, and do you have the room for it?
Space: Do you have space for both an indoor and outdoor unit for a central AC system? Would the air handlers from a heat pump create too much of a disturbance in your home's layout?
Cooling power: Do you want a system that is going to uniformly cool your home or one that will give you options for your cooling capabilities?
We can't control the weather outside of your home, but we can control the weather inside your home. Contact Mack Morris Heating & Air Conditioning to discuss your cooling options.