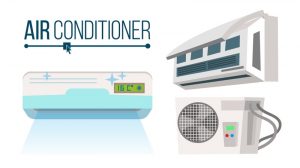 Choosing can be hard when we are given too many options! And with so many great air conditioning systems on the market, how will you ever choose the right one?!
Well, with the right knowledge and with the help of a professional, you can narrow down your options and select the system that is going to best meet your home's specific cooling demands. We first recommend continuing to read this blog, because below, we have some of the systems best suited for your Virginia home. Secondly, we recommend contacting your local HVAC professional who can guide you through the entire decision-making process and eventually size and install your new AC!
So, what are you waiting for? Keep reading below to find out more!
Your Air Conditioning Options
When it comes to keeping your home cool, you want to be sure you've got the best of the best in air conditioning in Orange, VA.  Here's what we install:
Central Air Conditioners
When you think about an air conditioning unit, the image that likely pops into your mind is that of a central air conditioner. This, after all, is the most popular type of cooling system on the market—and for good reason! A reliable central air conditioner is highly efficient and effective, keeping the entirety of your home nice and cool, no matter the temperature outside.
A central air conditioner is comprised of two basic components: the indoor unit, which delivers cool air to your home and the outdoor unit, which contains a compressor, a fan, and a condenser coil. When your central AC is turned on, the system utilizes the flow of refrigerant to transfer heat from inside your home outside.
Heat Pumps
Heat pumps work much like a central AC, but with one difference: the reversing valve! The reversing valve is what homeowners use to reverse the flow of refrigerant, allowing for home heating in addition to cooling. This makes the heat pump quite versatile and quite popular! Homeowners all over the country are making the switch to a heat pump for their ability to efficiently and effectively heat and cool their homes.
Ductless Systems
Not all homes have the space for the ductwork required to install a traditional forced-air system, like a central AC. However, that does not mean that they can't benefit from the cooling power offered by a ductless system! Ductless systems are basically heat pumps that do not rely on a network of ducts. Instead, they utilize one outdoor condenser unit which is attached via refrigerant lines to multiple indoor air handlers.
Ductless systems are efficient, effective, and are able to provide both heating and cooling with just the flip of a switch!
Dual-Fuel Systems
You can also choose to take advantage of a dual fuel heat pump, also known as a hybrid heating system. This setup uses two different fuel sources and responds to changing conditions in your home to provide you with a high-efficiency home solution. Basically, a dual fuel system combines the efficiency of a heat pump with the power of a natural gas furnace.
Standard heat pumps are often less efficient during the winter when the temperature drops too low. A hybrid system automatically senses when the heat pumps start to struggle, allowing the furnace to take over as the next most efficient option.
To find the air conditioning system best suited for your home, consult with the professionals at Mack Morris Heating & Air Conditioning.