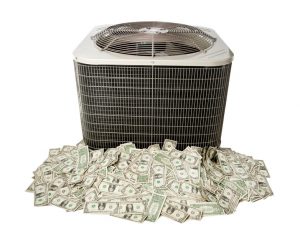 Some goodbyes can be hard, but not all of them have to be. This is especially true if you are saying goodbye to your old, worn out air conditioning system. Sure, you've had plenty of good times together—hot summer days spent idly in front of the cool blast of air. However, your AC was not designed to last forever, and sometimes, investing in a new system is the best way to ensure that you get the most bang for your buck.
Sometimes it can be quite hard to tell whether or not now is the right time to consider an air conditioning replacement. Fortunately for you though, there are plenty of signs that suggest it's a time for replacement and below, we've listed them for you. Keep reading to find out if it is time to kiss your AC goodbye. 
Signs That You Need to Replace Your AC
It's Old
Although built to last, the average lifespan of an air conditioner is anywhere between 10 and 15 years (though, it can last longer if you've kept up on maintenance). If your system has aged beyond this average life expectancy, it might be best to consider a replacement, as old, outdated ACs are simply not as efficient or effective as newer models.
It Requires Frequent Repairs
Your air conditioner should not require more than just a couple of repairs every few years, so if you've found yourself scheduling AC repair service any more than that, it might just be that your system is worn out and in need of replacement. As a rule of thumb, if you are spending 50% or more the cost of a new system on repairs, it is better to bite the bullet and replace it.
It No Longer Keeps You Cool
You expect your air conditioner to keep your home cool and comfortable, even during the hottest heatwave. So, what do you do when your system can no longer keep up with your cooling demands? If your AC is having trouble keeping up, consider a replacement. Your HVAC technician can match you with the new AC that is going to best meet your needs.
It's Costing You More Money
If you've found yourself paying more and more each month on energy bills, your air conditioner might be the culprit. A worn out, inefficient AC is going to require more energy to do its job, and because of this, you can surely expect a rise in your cooling costs. To keep your spending to a minimum, investing in a new air conditioner might be the way to go.
So, What are You Waiting For?
If you suspect that your home is overdue for an air conditioning replacement, be sure to contact a professional HVAC technician. A professional will be able to walk you through every step of the decision-making process, and in the end, your home will be suited with a  brand new, highly-efficient cooling system.
For all your air conditioning needs, contact the experts at Mack Morris Heating & Air Conditioning.