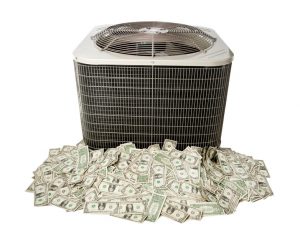 We all love an opportunity to save a little money. Free samples, in-store coupons, and price comparisons are something nearly all of us have probably taken part in. So why is it so hard for us to take the right steps to save money in our own homes?
Usually, it's because we don't really know how to start. A little bit of effort can lower your bills more than expected, while a big change can help quite a lot. Whatever you choose to do, it will be worth it in the end when you see your monthly bills!
Change the Air Filter
It seems like such a small component to make any impact on the energy efficiency of your heating and cooling equipment. After all, a filter is just a frame and some fibers. But it actually protects the integrity of your AC equipment—until it gets clogged. This blocks airflow causing the air conditioner to malfunction and use way too much energy. Change that filter every 1-3 months!
Use a Programmable Thermostat the Right Way!
We meet way too many homeowners who have a programmable thermostat on the wall but still use it as though it were an older manual model. In other words, they turn the heat or AC on when they walk through the door and off before leaving for work—or at least they try to. But it's easy to make a mistake!
Using a programmable thermostat properly means setting temperatures ahead of time, thinking ahead to when you plan to be out all week so that it automatically adjusts as needed. This prevents the accidental days of leaving the temperature on a low setting when you leave the house, which can really add up!
Upgrade Equipment
Finally, if you have an older heating or air conditioning system that's using up way too much energy, it may be time to face the facts. That system might need to be replaced. It's possible that maintenance can bring it up to speed, but if technicians recommend a replacement, it's not a good idea to wait too long. Your new heating and cooling equipment could save hundreds of dollars per year!
Contact Mack Morris Heating & Air Conditioning for heating and air conditioning installation in Charlottesville, VA today.