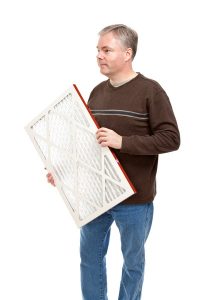 Did you know how important your system filter is to your air conditioner in Charlottesville? You may not realize it, but this seemingly simple part of the system can actually make or break its operation depending on whether it is ignored or not.
The air filter for your AC system is going to help to protect it from the negative impact of too much dust or debris getting into it. Believe it or not, dirt can truly hurt your system's operation and efficiency. This is why your air filter should be changed or cleaned regularly.
If you haven't changed out your air filter just yet and didn't know that you needed to, we'd love to tell you more about why doing so is so important.
What an Air Filter Does
You need a good air filter in your HVAC  system. While this filter technically just "sits there," it actually offers an important service to your AC. It keeps dust, fur, and other debris out of your air conditioner, which in turn keeps your AC evaporator coil cleaner and improves system operation. Without a filter, your AC unit (and your heater) would run into a lot more trouble.
Why You Need to Change Your Filter
The filter captures dust and other debris in a semi-permeable membrane, keeping the majority of these contaminants out of your system. But over time that debris adds up. A dirty air filter is going to end up hindering the operation of your air conditioning system, usually by reducing the strength of the airflow getting into it and reducing the volume of cool air that is able to be produced. Regular filter changes can help you avoid this issue.
When Do You Need to Change (Or Clean) Your Filter?
We advise that everyone change or clean their air filter every one to three months. We provide a range because the need for filter changes can vary based on your system use, indoor air quality, and filter type.
For those of you who have a reusable filter, we still suggest the same range. Cleaning your filter should be done regularly in order to prevent those issues we've listed above. Remember, a reusable filter is a larger monetary investment and you don't want yours to be damaged because it isn't cleaned for too long.
If you aren't sure how to go about changing your air filter, or you aren't comfortable with doing it yourself, you can always talk to one of our technicians. We can guide you through the process so you can change your filter yourself when the time comes. What's more, we can change your filter whenever you have us provide a tune-up for your AC or heater. We know how important it is to keep a clean filter in place, so we are here to help you do just that.
Contact Mack Morris Heating & Air Conditioning for your AC needs. We can't control the weather outside of your home, but we can control the weather inside your home.