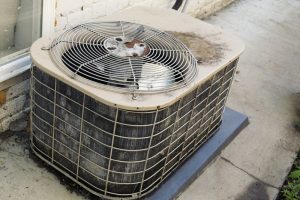 No air conditioner is going to last forever. But we strongly believe that it is best to replace an aging air conditioner before it completely gives out. This is because doing so can help save you money on your energy bills and prevents an instance when you may be without any cooling system for days or weeks at a time.
To know when you need to replace your old system, you need to know what the warning signs are that you have an AC on its way out. Be on the alert for these indicators that you need an AC replacement in Charlottesville so you can schedule your upgrade ahead of time.
The Importance of Prompt System Replacement
We touched on this briefly above, but it is a better idea to replace an old air conditioner well before it fails entirely for more than one reason.
Helps save money: Yes, a replacement done ahead of time can help you save money. This is because it prevents you from having to pay extra money for extra energy used by an old system that is no longer efficient. It also helps you save  money because you won't be paying for increasingly expensive repairs!
Helps save time: A replacement done ahead of time is one that is easier and faster to accomplish mainly because there won't be a battle for an appointment time with your neighbors.
Avoids delays: Right now, there is a shortage of HVAC equipment. Waiting until your AC breakdown to schedule a replacement may see you waiting far longer than usual for a new system to arrive. Booking ahead of time helps you avoid this issue.
4 Indicators That You Need a New Air Conditioner
Think you need an AC replacement? Check for these warning signs so you know if it is time to reach out to us.
Your AC is 10+ years old. With maintenance, your AC may make it to 15 years old or more. However, once the system hits that 10-year mark, it is best to start preparing for an upgrade.
The system needs repairs too often. A properly working air conditioner shouldn't need repairs more than once every few years. If you've started to require yearly repairs, even with regular tune-ups, it means you are better off replacing the system instead of repairing it again.
Repairs are far too expensive. How expensive is too expensive? If an AC repair cost is enough to pay for half or more of the price of a new system, your money is better spent upgrading.
Your energy bills are getting too high. No matter how much maintenance or what repairs you have done, your energy bills are always too high when you use your AC. This is the sign of a bad AC that no longer runs efficiently.
Come to the experts at Mack Morris Heating & Air Conditioning for your new AC replacement. We work with some of the best systems on the market (RUUD, American Standard, etc) and if you aren't 100% satisfied with your new system for the first year, we will refund the full cost and remove the system.
We can't control the weather outside of your home, but we can control the weather inside your home. Schedule an appointment with Mack Morris Heating & Air Conditioning today.