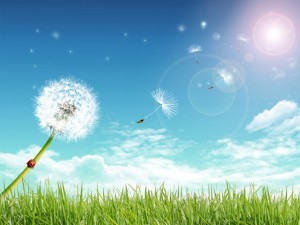 How clean do you think your air is? Chances are that, unless you are having a sneezing fit, you don't really think too much about the quality of the air in your home. It might be a good time to start giving your indoor air quality some thought. After all, poor indoor air quality can provide as many problems as good indoor air quality can fix.
How do you know what is floating around the air in your house though? It isn't like you can take a microscope and look at the air to see what's wrong. That's where we can help. We have listed some of the most common and problematic contaminants in your home's air that you may be fighting with. And, even better, we have the solutions to combat them.
6 Common Contaminants That May Be in Your Home
Here are some of the contaminants that might have found their way into the air in your home:
Dust and dirt: This is the most common airborne contaminant that pretty much every home is going to deal with. Dust and debris are floating around just about everywhere so it is unsurprising that you would find it in your home.
Fur or feathers: Do you have pets? If you do, their fur or feathers are likely to get into the air in your home. Even with frequent vacuuming and sweeping, fur and even small feathers can end up floating around in your indoor air.
Pollen: This is every allergy sufferer's common enemy. Pollen is a year-round problem outdoors, but can be especially bad both in and out of the house during spring and summer.
VOCs: Volatile organic compounds can be found in almost every home because they are in a large number of the items used to build and maintain modern homes such as paint and cleaning chemicals.
Mold spores: Mold is never good when it is in your home. Mold spores can make their way into your home and cause problems if they aren't filtered out.
Viruses or bacteria: Lastly, you might have viruses or bacteria floating around in your home. Maybe someone brought in one of these organisms but ultimately you want it gone, not cycling around the home!
Systems to Combat Poor Air Quality
If you think you may be dealing with some high concentrations of the above-listed contaminants, it is worth looking into an indoor air quality system to clean things up. These are the systems we recommend to most people:
Air filter: An air filtration system is made to clean the air that serves the home, not the air flowing into the HVAC system. Placed within your ductwork, the whole-house air filter can capture airborne contaminants in a permeable membrane and remove them from your home's air, leaving things cleaner and fresher than before.
Air purifier: Where air filters have their limits, air purification systems pick up the baton. An air purifier in Gordonsville, VA will use either UV light or electricity to remove contaminants or destroy them. These systems are especially useful in homes that battle with high levels of mold spores, viruses, and bacteria.
Need help with your indoor air? Contact Mack Morris Heating & Air Conditioning. We can't control the weather outside of your home, but we can control the weather inside your home.