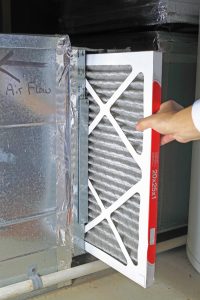 Was that a little chill in the air? Okay, even if it wasn't, we can hope! Things are likely to start cooling down again soon and that means our air conditioners are going to get some well-earned rest. But don't think you can just switch the thermostat over and call it a day. There is another highly important task to take care of that will affect both your AC and your heater, too. The task is…
Change that air filter!
You could ask almost any HVAC contractor in the area what the easiest thing to do is that would still benefit someone's HVAC system and they would tell you to do this. Your air filter plays an incredibly important role in protecting your AC and your heating system. Let's discuss why regularly checking and changing your filter is so vital.
The role of the HVAC air filter
Your air filter is placed within the return air duct of your HVAC system. Here it can filter the air that enters into your air conditioning or heating system. This is important because the filter captures a wide variety of dust and debris, keeping it out of these comfort systems. Without that air filter, all that dirt would enter into your systems and may lead to early breakdowns. While this filter is meant to protect your HVAC systems more than improving your air quality, it also can give your indoor air quality a little bit of a helping hand too.
When to change the filter
No air filter is built to last forever. They need to be changed out on a fairly regular basis simply because they will collect too much dirt to be of any use. We advised changing your air filter every month if you are using your HVAC system regularly. Otherwise, you can opt to change the filter every three months.
What to do if you have a reusable filter
Some filters are reusable. It is fairly obvious that you don't want to dispose of these types of filters. Instead, you want to clean them off. Make sure to check and clean off your reusable filters as often as you would change out a disposable one. When you clean your filter be sure to follow the care instructions as closely as possible
We can help with filter changes and more
Not comfortable with the idea of handling a filter change on your own? Or maybe you aren't sure where to go to access your system filter. Whatever the case may be, we are here to help. The technicians at Mack Morris Heating & Air Conditioning can help with checking and changing out or cleaning your air filter as a part of your annual maintenance appointment or as a part of a repair air conditioning service in Orange, VA.
We can't control the weather outside of your home, but we can control the weather inside your home. Contact the team at Mack Morris Heating & Air Conditioning for your AC service needs today.