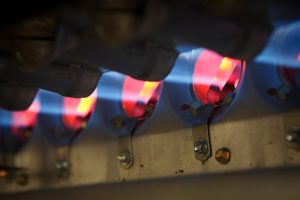 Your furnace works hard (and will continue to work hard) to keep you warm in the coldest months of the year. We've just wrapped up some of the biggest holiday celebrations of the year, but that doesn't mean you can't give just one more gift. Why not give your all-electric or gas furnace in Gordonsville, VA some extra consideration? Doing so can make the rest of this winter and many winters to come a lot more comfortable.
If you are hoping to enjoy the best comfort from your heater this season, then we'd advise using the following ideas to help your system out.
Keep your temperature setting manageable
One of the biggest mistakes that we see people make during the winter season is turning the thermostat up too high. This won't get your home warmer any faster. What it will do is cost you more and strain your heater more.
The ideal temperature setting for your heater is about 68°. At this temperature, you'll enjoy a good deal of warmth in the house without forcing your heater to work extra. If this is still a smidge chilly, then bundling up may be a good idea. You can even turn the thermostat down a couple of degrees during the evening when everyone is bundled up in their beds.
Make sure the filter is changed regularly
The filter for your heater plays an important role. Sitting in the return air duct, it captures and removes debris that are in the air entering your system. By just sitting there, this filter provides valuable protection to your heater, keeping it (mostly) clean of airborne debris.
Checking and changing out your filter on a regular basis is important to remember. A dirty filter will slow down the airflow entering your system and strain your heater. Change your filter every one to three months to avoid this and keep your heater working well.
Double checks vents are open and unclogged
You want the warm air that your heater produces to enter your home without a hassle. That's why it is important to double-check your vents.
Are all of your vents open? Are the vent covers clean and clear of dust? You'll also want to check that no vents have decor or furniture in front of them. Even a garland hanging in front of a heater can lead to a reduction in the warm air that enters your house which will reduce your comfort and strain your heater too.
Keep items away from the furnace
The area around your furnace needs to be kept clean and clear. This is for a couple of reasons. The first reason is that clogging up the area around the furnace is a fire hazard. Boxes or old toys can easily end up melting or catching fire if they are too close to a hot furnace. Additionally, that close proximity can actually increase the risk of the furnace overheating and shutting down early, costing you comfort and stressing your heater.
Get maintenance or repairs done by a professional
As always, the best way to care for your furnace will be to ensure that it gets professional service when needed. Our team can provide both expert maintenance and repairs to heating systems throughout the area.
We can't control the weather outside of your home, but we can control the weather inside your home. Contact Mack Morris Heating & Air Conditioning to schedule service and enjoy a warm winter.