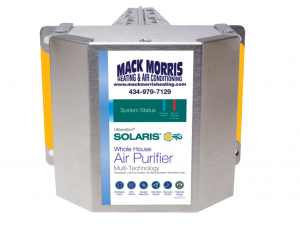 The air circulating in your home can help or hinder both your comfort and your health. There are different things you can do, and systems that you can use, to help boost IAQ to the level that you want.
Using an ultraviolet light air filter is one of the ways that you can improve the quality of the air in your home. These filters use ultraviolet light to purify the air that enters your home through your ductwork.
How does this work? It works because UV light kills or neutralizes any airborne viruses or bacteria passing through your ducts. The UV rays damage the DNA of microbes that pass under it, preventing them from reproducing and causing infections. This helps to keep the air in your home healthier.
Our Ultravation Solaris Whole House Air Purifier is a great addition to any home HVAC system. Installed within you ductwork, it helps to purify the air that cycles through your comfort systems and heads off viruses and bacteria at the pass.
When you pair a whole house purifier with consistent healthy hygiene practices such as washing your hands, you can enjoy and happier and healthier home all year long.
Contact Mack Morris Heating & Air Conditioning to learn more.
---
There is much to consider regarding the COVID-19 virus (Coronavirus) and its possible transmission in your home. While there are various and effective indoor air quality measures available to help protect your safety, including duct sanitization, ultraviolet (UV) germicidal light treatment, and HEPA air filters, they alone cannot protect from all forms of COVID-19 transmission. It is important to follow all official guidelines for preventing the spread of this virus.