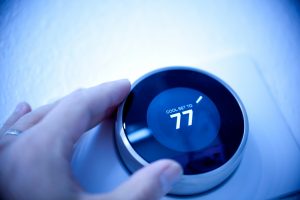 The weather is starting to shift. One day we need thick sweaters while the next we could easily go out in a T-shirt. You've stayed on top of keeping track of your system maintenance and repairs, so you are largely sure that your comfort is in good shape. That said, now may be a good time to invest in one more aspect of your home comfort system that may need some extra attention: the thermostat.
The thermostat is your control center for your home comfort. It makes sense that you'd want an effective control center to ensure that you enjoy the best comfort level possible. If you have an outdated or inefficient thermostat, this will be tougher than you might think.
Not all thermostats are created equal. This is why we want to help you figure out if you'd benefit from a thermostat upgrade in Charlottesville.
When You Should Consider a Thermostat Upgrade
Your thermostat may not undergo the severity of use that your heater or your AC do, but it does accrue some wear and tear over time. This is why you need to know what the indicators are that you need an upgrade for this highly important part of your comfort system. Here are the warning signs to know.
One of your systems was upgraded but not your thermostat. In the last 10 years, did you get a new air conditioner or heater? This is a great choice, but it needs to be matched with a thermostat to go with it. If you ever upgrade one system you should always upgrade your thermostat too.
Your thermostat has a delayed or nonexistent response. How well does your thermostat respond when you try to use it? Do you have to tap those buttons multiple times in a row or perhaps balance a slider in a certain area to get a response? These aren't just annoyances, these are signs of a delayed or malfunctioning response that indicates your thermostat is wearing out.
You've noticed problems with the function of your comfort systems. Maybe the heater never wanted to turn off and now the AC can't seem to stay on. Your HVAC system hasn't developed an attitude, but you may have a thermostat that has become incredibly miscalibrated.
Your Options: Go With a Smart Choice
We really do mean smart! If you have an older thermostat that you want to upgrade, you can select a smart thermostat for your next one. Smart thermostats live up to their name! Not only are some types remote-controlled, but these systems can also be programmed to turn on at certain times of day to maximize comfort.
Thermostat upgrades will always benefit your home. They can improve the effectiveness and efficiency of your AC or heater and leave you with lower energy bills. Just make sure to have a professional be the one to get the job done.
We can't control the weather outside of your home, but we can control the weather inside your home. Contact the experts at Mack Morris Heating & Air Conditioning for your HVAC system services.