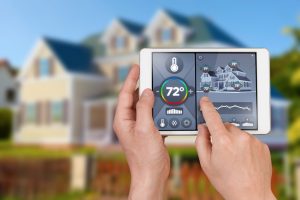 It wouldn't make sense to try to drive your car without a steering wheel. There would be no way to control it, let alone direct the heading it would go. The same idea can be applied to your HVAC system: without the thermostat, you can't tell your air conditioner when to turn on, how long to run, or what temperature you are shooting for.
Your thermostat is vital to your home comfort. That is why it is important to upgrade yours if the old one is no longer able to do its job properly. Even if the thermostat is still working, it may not read temperatures correctly, which will harm your comfort. Older thermostats or thermostats that have become defunct are going to need to be upgraded. We can help with this.
When to Upgrade Your Thermostat
Thermostats can last a long time but not forever. When your thermostat starts to wear out, it's better to get the system replaced and upgraded soon. Here's how to determine if the time has come to upgrade yours:
Poor home comfort. If you're starting to notice that the house seems too hot too often, then it may be due to a thermostat that isn't operating correctly. It may be sending the wrong temperature readings to your AC or may not be turning the system on at all.
Incorrect temperates: Let's say you set the temperature on your thermostat for 70 degrees when it's a nice 85° day. You hear the air conditioner turn on and run for a while, but it still feels like it is hotter than you would like. However, the thermostat is reading that it is now 70° even though you know this is not true. This is a sign of a thermostat that is not detecting temperatures accurately.
Short cycling: Short cycling is when your air conditioner turns on and off again in a short period of time only to boot right back up and repeat the process. This is extremely hard on your air conditioner and can be caused by a thermostat that is not reading the temperatures correctly or has a faulty connection with your system.
High energy bills: Poor cooling power is going to harm your comfort and cause your AC to require more energy to run. This will result in higher energy bills, which is unfair when you are getting less comfortable.
Your Thermostat Upgrade Options
There are plenty of options out there for your next thermostat, but we would highly recommend considering a smart or wireless thermostat. These systems are able to do the basic tasks of a thermostat with additional perks including remote controllability and even increased energy efficiency.
If you need to trade out the thermostat in your home it is best to have a professional technician help with the process. Mack Morris Heating & Air Conditioning is your go-to HVAC company in Orange, VA for any comfort system service you may need, from thermostat upgrades to system repairs and more.
We can't control the weather outside of your home, but we can control the weather inside your home. Contact us today to make an appointment.