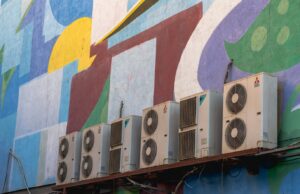 Are you fed up with the warm airflow of your air conditioner? Is your bank breaking with the constant visits of the repairing team?
If any of this sounds like you, you may need a new air conditioner. Getting a new air conditioner may be a hassle if you're new to this. However, you can read this article to avoid the hassle.
Here are the basics of what you need to know before buying a new air conditioner:
Signs You Need a New Air Conditioner
It has reached the end of its lifespan. On average, an air conditioner can last up to 10 to 15 years with proper maintenance and care. If you have been using it for more than 15 years, then perhaps it is time for a change. 

The most obvious sign is that your air conditioner takes longer to cool down a room than before. This may be accompanied by poor or less cool airflow and frequent hang-ups. Because of these issues, you may be receiving higher energy bills. 

The final sign is that your air conditioner's repair and maintenance costs have risen significantly. Frequent visits by an HVAC company may indicate it is at the end of its service life. 
Selecting the Best Air Conditioner
This purely depends on the type of property. For a bigger property, you may choose a central air conditioning system. There are two types of central air conditioning systems:
A split-system central air conditioner

Packaged central air conditioner
Moreover, you can choose ductless mini-split air conditioners. They do not involve any ductwork and can be installed to cool a single room with a unit in the room and another outside it.
Budget 
It's not always true that an expensive air conditioner will be more beneficial. It would help if you accounted for your energy costs each month. Then you may also want to think about ductwork, which may involve some property renovation. Finally, you may also want to account for installation costs.
Choosing the Correct SEER Value
Seasonal Energy Efficiency Rating is an important factor when selecting a new air conditioner. It determines your unit's energy efficiency. A higher SEER value may mean your air conditioner is much more reliable and energy-efficient, but it also costs more to install. Ask your HVAC company for their suggestion. However, federal regulations require that energy appliances must meet the minimum value of 15 SEER.
Need Help?
If you are looking for a reliable HVAC company for your new AC installation in Charlottesville, VA, then look no further as Mack Morris Heating & Air Conditioning can help you. With our trustworthy service, we can claim, "We can't control the weather outside of your home, but we can control the weather inside your home."
So, does the weather inside your home need control? Visit our website to book an appointment online or by calling.