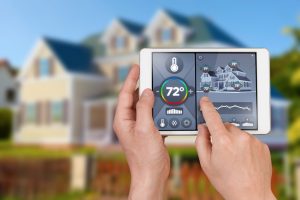 Nowadays, we have "smart" everything, from phones and watches to speakers and coffee makers. Modern technologies have made operating our homes much easier and much more efficient. Today, smart thermostats are changing the ways in which homeowners interact with their heating and cooling system, making for better efficiency and lower monthly spending costs.
Often, homeowners keep their old, outdated thermostats around for years before they'd even consider a replacement. But today, we are here to tell you that upgrading your thermostat just may give your HVAC systems the boost that they've long been needing. Below, we have outlined just some of the many reasons as to why you should consider making the switch. Keep reading to find out more!
Here's Why You Should Make the Switch
Accuracy
A manual thermostat is any thermostat that you set manually by using a dial or a sliding switch. Often with these thermostats, it can be quite difficult to see where things line up. The small marks on the thermostat don't always represent an accurate temperature reading, making reading it a little confusing.
When the temperature reading on the thermostat doesn't match how you actually feel, you might find yourself constantly making temperature adjustments, which in turn, can place a lot of strain on your HVAC system. Therefore, a smart thermostat with a digital, easy to read display makes it so that you'll never question whether the temperature reading on the screen is correct.
Programming
Older, outdated thermostats simply lack the advanced programming that a smart thermostat has. Now, we know what you're thinking: "Why do I need programming?" Well, the programming features of a smart thermostat make it so that you'll never forget to adjust the temperature when you go to bed at night or when you step out of the house for the day.
It might not seem like a big deal, but setting an appropriate temperature is important. Far too much energy is wasted heating or cooling unoccupied spaces. A smart thermostat can is able to create a personalized program based around your personal schedule, so you'll never have to worry about wasting energy while you're at work.
WiFi Capabilities
Some smart thermostats are able to connect to the WiFi in your home, allowing you to access your system remotely from anywhere in the world so long as you have access to a smartphone, tablet, or laptop. This is a great way to ensure that you're not spending more money than you have to.
Plus, these thermostats have the ability to learn your preferences and within about a week, find the most preferable, efficient settings for you. Some can even analyze local weather conditions to make even more energy-saving adjustments!
Be Sure to Hire a Professional
It is important to hire a professional to install your new smart thermostat. A professional HVAC technician can help determine which smart thermostat is right for you and can ensure that it is properly integrated into your existing HVAC system.
If you are interested in installing a smart thermostat in your home, or to schedule other HVAC services in Crozet, VA, be sure to contact Mack Morris Heating & Air Conditioning today!