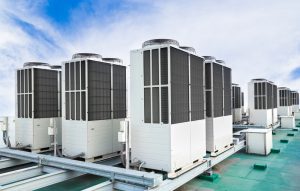 Having a home without room for a split air conditioning system or a commercial business that may need to have its AC adjusted over time isn't a good reason to go without reliable cooling power during summer. After all, when you live or work in Charlottesville, you need to have a good system you can trust to keep you comfortable while you are indoors.
So, what do you do if you simply can't accommodate the usual split AC system? You can opt for having one of our technicians install packaged HVAC units in Charlottesville, VA in your home or business.
Split vs. Packaged AC Units
You may be wondering what the difference is between split and packaged HVAC systems. We are happy to explain.
Most HVAC units come in the form of a split system in which there is an indoor evaporator unit and an outdoor condenser unit. However, this can be harder to accommodate if you have a smaller home.
In contrast, a packaged air conditioner is going to be set up entirely outside. These systems can be set up outdoors, usually on a rooftop. Packaged HVAC systems are ideal for both commercial businesses and residential buildings that may not have as much room for a usual split system. In a packaged unit, all the coils involved in your home cooling are literally packaged in one outdoor unit that is attached to your home via external ductwork.
Why Consider a Packaged HVAC Unit?
We touched on the perks of packaged HVAC systems above, but we want to point them out a bit more clearly so you know exactly how and why these units are a great comfort option:
All outdoors: Packaged HVAC units are able to be set up entirely outdoors. This means you don't need to worry about finding space for an indoor unit.
Easier maintenance: Because everything is in one place with a packaged unit, it makes maintenance much easier and faster overall. This means maintenance services are a shorter process for you and your HVAC technician.
Rooftop set-up: Packaged HVAC systems don't have to be set up on the side of your home only. They can be set up on your rooftop in you don't have the space required for an outdoor unit around the side of the home, making it ideal for residential buildings and commercial businesses that may have no room around the sides. This also means you can enjoy comfort without dealing with the high noise levels of an outdoor unit outside your window.
We Provide Commercial and Residential Installation
If you are looking to install a packaged HVAC system for your home or business, you will want to schedule your service with our team of professionals. We provide commercial and residential services that you can rely on to keep you comfortable. Reach out today to schedule your professional services so you can enjoy the comfort you need this summer.
We can't control the weather outside of your home, but we can control the weather inside your home. Contact Mack Morris Heating & Air Conditioning to get started.