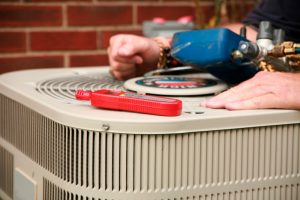 There are three different ways that you can take care of your air conditioner. There's a good chance that you will have to do all three over your AC's lifespan. The good news is, our team offers all of the AC services that you can possibly need.
Whether you are noticing signs that something is wrong with your air conditioner or you just want to stay ahead of problems, AC maintenance in Charlottesville, VA, is what you need. And our team is here to help. You can keep reading to learn more about our three AC services and when you will need each one.
AC Maintenance
When you schedule AC maintenance, you are investing in preventive care for your air conditioner. Ideally, you have our team come out for AC maintenance once per year at the end of the summer before you switch over to heating. When you do this, you ensure that any problems get addressed sooner rather than later. 
That way when you turn your air conditioner on the following year, you already know it's in peak condition and ready to cool your home all spring and summer. The goal of AC maintenance is to stay ahead of repairs by making tiny tweaks all along. You can catch small problems before they become big ones.
AC Repairs
Sometimes even when you invest in AC maintenance, your air conditioner still needs a repair here and there. Keep in mind that the chances of repairs are greater if you don't invest in AC maintenance. If you invest in AC maintenance each year, you may not have to schedule any repairs since you stay ahead of problems. Repair services are different from maintenance appointments because there is an evident problem that needs to be addressed.
Maybe your AC stopped working all together, or you're noticing a difference in how well the system is working. You may want to call us for an AC repair if you hear unusual sounds or notice smells coming from the unit. Repairs are a great way to extend the life of your unit and keep it running for longer. Always trust your intuition and give us a call if you suspect that something is wrong with your AC. Ignoring the signs of a problem will only make them worse with time.
AC Replacement
Keep in mind that in the last two years of your AC's life, you will experience much more frequent repairs. When this happens, it may be time to consider a replacement instead. The rule that experts follow is that if a single repair costs more than 50% of the price of a completely new air conditioner, you should install a new AC instead. 
This 50% rule can also apply for back to back repairs that you're making over a period of a few months. Most air conditioners will last between 10 and 15 years, but yours may last longer if you have been diligent to keep up with AC maintenance each year. And if you haven't, you can always do better with your new air conditioner and make the investment so that it will last longer for your family in the future.
We can't control the weather outside of your home, but we can control the weather inside your home. Schedule an appointment today for AC services.