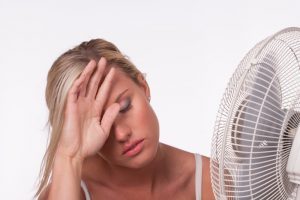 Nobody wants to drain their budget just to keep their home comfortable. We'd love to tell you that you can cool your home for free, but even investing in a solar energy system and powering an AC that way won't quite fit that bill. The best thing that we can do is tell you how to cool your home more efficiently for a more affordable experience—without having to replace your entire AC system in Charlottesville with a high-efficiency model!
Now,  you may be thinking that there is a catch here, and we understand that. Consumers are often at the mercy of contractors looking to make a few quick bucks. As our history of satisfying customers will attest to, however,  that is not something that you need to worry about when you work with our team. We're here to make sure that you are able to cool your home in an affordable manner this summer—nothing more! So read on and contact us with any questions that you may have. 
Those Ceiling Fans? Keep Them Running.
It may look nice making its clean, quiet rotations on its base, but your ceiling fan is a lot more important than just a stylistic flourish. That fan is actually a great means by which to keep your home comfortable in a more efficient manner than just by running your AC. No, it won't actively cool your home in the same manner as an air conditioner—and that's precisely the point.
A ceiling fan doesn't take much energy to run. It's not using a refrigerant cycle to cool air, like your AC. However, it can help to distribute conditioned air throughout your home in a more effective manner. And that can help to take some strain off of your air conditioning system without sacrificing your comfort in the meantime.
Upgrade Your Thermostat
Yes, we told you that we weren't going to insist that you upgrade your HVAC system to a high-efficiency model. Again, though, that's precisely the point. Upgrading your thermostat is a very simple and very affordable way in which to boost energy efficiency. You may not even realize how many options are out there.
If you have a basic digital model, upgrade to a programmable thermostat that you can set around your schedule. More technologically inclined? A smart thermostat can help you to automate your home and seriously take control advantage of your HVAC system in ways that you've never even thought of.
Schedule Routine Maintenance
We're not even talking strictly in terms of efficiency here, but that's a big part of it. If you want the very best performance that your home cooling system has to offer, then you absolutely must schedule routine air conditioning maintenance. There is nothing better that you can do for that system.
Our ESA (Energy Savings Agreement) boasts 4,000+ members already. Add yourself to that list. You'll enjoy a lot of additional benefits to supplement the main ones. A better, more effective, and more reliable performance from your air conditioner!
Mack Morris Heating & Air Conditioning. We can't control the weather outside of your home, but we can control the weather inside your home.