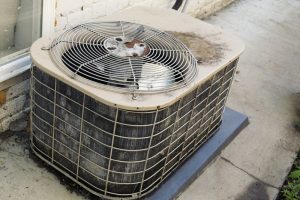 Fall is coming up, but that does not mean now is the time to forget about your AC system. This is especially true if you seem to be having problems with your air conditioner. In fact, if you've had your cooling system for a long time and you are starting to notice that it is having consistent trouble, you may need to start preparing for something more than just repairs.
No one wants to have to replace their air conditioner. But the reality is that one day you will have to get rid of your old system and have a newer, more efficient one installed. How do you know the time has come for your AC? Watch out for these indicators.
1. Your air conditioner still uses R-22
R-22 is a type of refrigerant that was used in air conditioners for a long time. However, this substance has been phased out as of 2020. This means that any system that still uses this refrigerant will be much harder and more expensive to repair if it develops a refrigerant leak. If you have a system that uses R-22 it is best to plan for a replacement in the near future.
2. Your system could get its driver's license (it is nearing 16+)
All jokes aside, an old air conditioner is going to need to be retired sooner than later. On average, a well-maintained system is likely to last around 15 years maximum. Even if your system runs past this point, an upgrade is still a good idea simply because newer AC units will provide better efficiency and effectiveness overall.
3. Repairs are too frequent
How often do you need to repair your air conditioner? If it's once every few years you are probably okay sticking with the system you have. However, if you need to repair your AC as frequently as you need to schedule a tune-up, then you have the bigger issue and likely need to update your system.
4. Repair costs have gotten too expensive
Speaking of repairs, how expensive was your last AC repair bill? This can be a really good indicator of an AC that needs to be replaced. If your repair bill was equal to half the cost or more of a new system, then your money is better spent on getting an update. Large repair bills like this indicate a system in decline.
5. Your energy bills are far too high
If you notice your energy bills are continuously increasing or are simply too high this may be another sign that your air conditioner needs to be replaced. If you see increases in your monthly bills that do not match with your AC use despite regular tune-ups and repairs, you are due for a system update.
If you need a new air conditioner installed in your home, don't hesitate to reach out to the team at Mack Morris Heating & Air Conditioning. Our expert technicians can assess the current state of your AC system and work with you through your AC replacement in Charlottesville.
We can't control the weather outside of your home, but we can control the weather inside your home. Contact Mack Morris Heating & Air Conditioning to get started.